10 business candidates invited under the OINP Entrepreneur Stream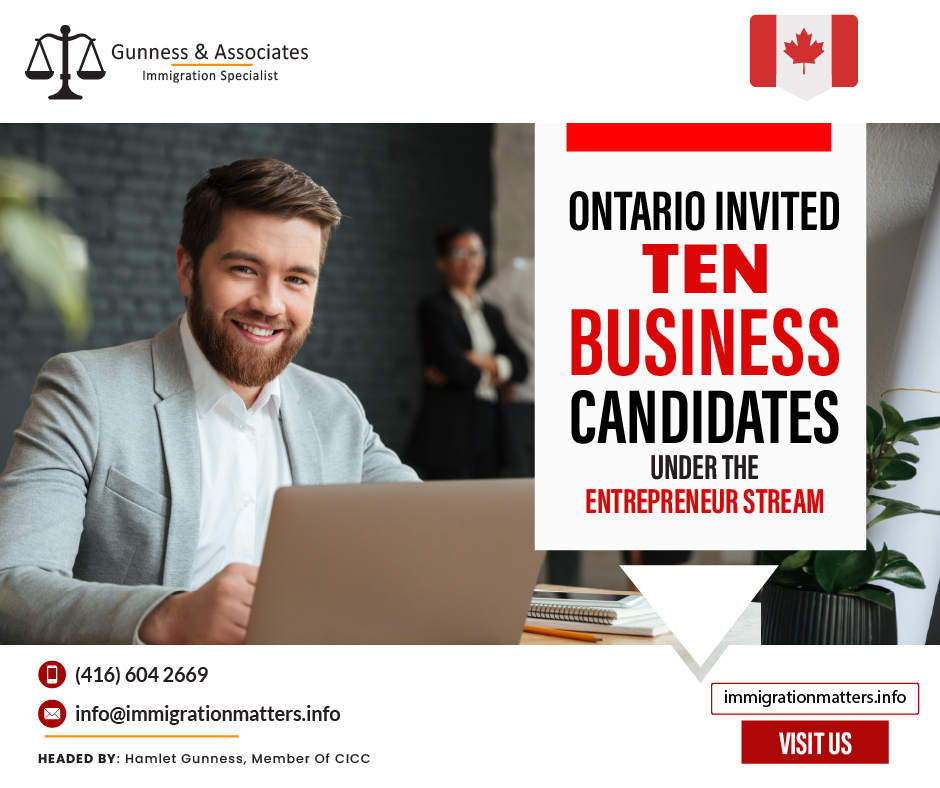 Under the OINP Entrepreneur Stream, 10 business candidates were invited on September 25, 2023, as the Ontario Immigration Nominee Program (OINP) released the new draw results. It was the fifth draw for business candidates of the year. 
In this draw, the province issued 10 Invitations to Apply (ITAs) to business candidates. 
This round's Comprehensive Ranking System (CRS) score was between 136 and 163.
The OINP noted that those whose Expressions of Interest were scored by September 20, 2023, were eligible for this draw. 
As a candidate, you can work with an immigration specialist. Fill out the form to Get an assessment from an experienced and licensed immigration consultant.
This year, Ontario invited 33,000 candidates under all streams of the OINP, including 58 entrepreneurs.
About the OINP Entrepreneur Stream
If you have a business idea or are in a position to buy a successful business in Ontario, the OINP Entrepreneur Stream of the Ontario Immigrant Nominee Program (OINP) may be the right Canadian immigration option for you. The Ontario Immigrant Nominee Program (OINP) has an immigration path called the Entrepreneur path. It is regulated by the Ontario Immigration Act, 2015, and its accompanying rules. To be authorized, your application must follow the process and meet the conditions outlined in the regulations.
Ontario invited 537 master's Graduates and Ph.D. Graduate streams candidates
What are the OINP Expression of interest system streams?
The Ontario Immigrant Nominee Program (OINP) oversees applications for the following streams using an expression of interest (EOI) system:
Employer Job Offer: Foreign Worker stream

Employer Job Offer: International Student Stream

Employer Job Offer: In-Demand Skills Stream

Masters Graduate stream

PhD Graduate stream

Entrepreneur stream
Want to know more details about "Ontario invited 10 business candidates under the Entrepreneur Stream" you can contact one of our immigration specialists at  Gunness & Associates.
Tel: (416) 604-2669 
Email: info@immigrationmatters.info
Gunness & Associates has helped thousands of people successfully immigrate to Canada with their families. Our skilled and experienced immigration experts have the expertise to accurately examine your case and advise you on the best method of proceeding to best serve your needs.
For honest and straightforward advice, contact the experts
Get a free Assessment
Join our newsletter and get up-to-date immigration news Click here
All rights reserved ©2023 Gunness & Associates
---