The BC PNP invited 224 skilled candidates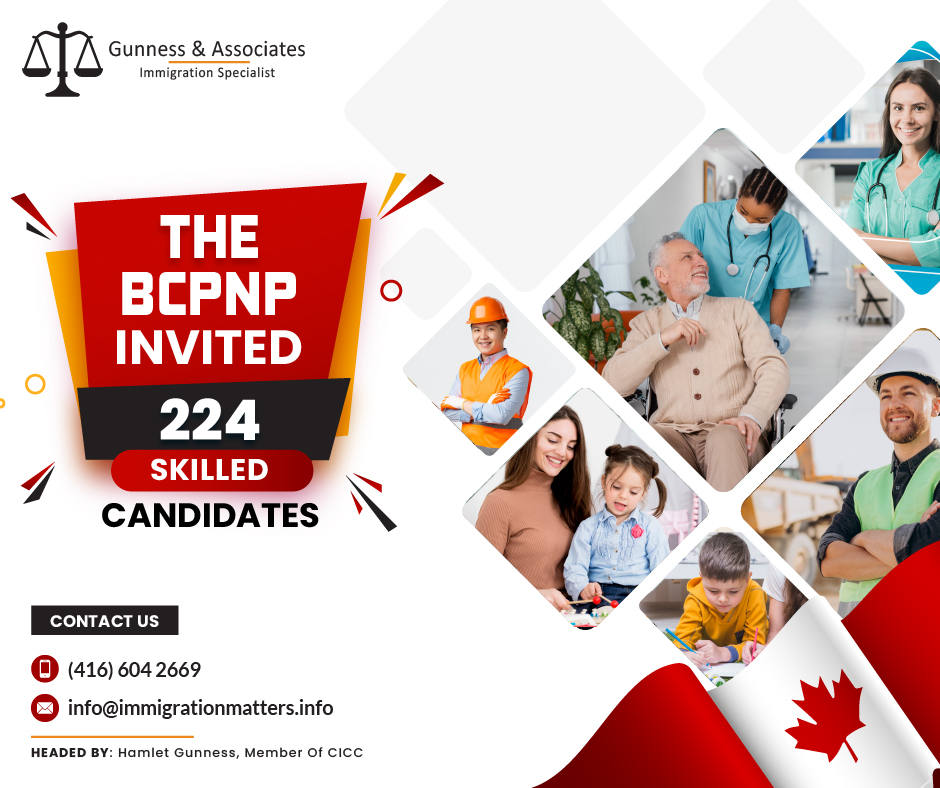 On November 16, 2023, the Government of British Columbia invited 224 skilled candidates to new invitation draws under the British Columbia Provincial Nominee Program (BCPNP) and issued invitations to apply to qualified candidates in healthcare, childcare, construction, and other priority occupations. 
In the general draw, the province invited 116 candidates. The minimum score for candidates invited to this draw was 94-115 points. BC issued 59 ITAs to candidates under the childcare-targeted draw for early childhood educators (NOC 42202). 
In the Healthcare-targeted draw, BC British Columbia invited 32 candidates who scored 60 points. In addition, the province invited 12 candidates working in the construction sector. Furthermore, five invitations have been issued for other priority occupations (NOCs 31103, 32104). 
In total, British Columbia issued 224 ITAs in this draw. This year, British Columbia has already invited 9,179 candidates.
Eligibility requirements for Skilled candidates in the BC PNP
Invitations to apply for the skilled candidates in the Skills Immigration pathways may be determined by one or more of the following factors:
Education – level, and field of education and where it was completed

Eligible professional designations in B.C.

Language skills

Occupation

Duration and skill level of work experience

Wage and/or skill level of job offer

Intent to live, work, and settle in a specific region

Strategic priorities – factors that address specific labor market needs in B.C. or support government pilot projects and initiatives
Priority Occupations in the Construction Sector
The occupations listed below are not the only ones that are eligible for the BC PNP.  Priority occupations may receive a targeted invitation after registering
Priority construction occupations:

22114 Landscape and horticulture technicians and specialists 

72102 Sheet metal workers

72103 Boilermakers

72104 Structural metal and plate work fabricators and fitters

72105 Ironworkers

72106 Welders and related machine operators

72200 Electricians (except industrial and power system)

72201 Industrial electricians

72300 Plumbers

72301 Steamfitters, pipefitters, and sprinkler system installers

72302 Gas fitters

72310 Carpenters

72311 Cabinetmakers

72320 Bricklayers

72400 Construction millwrights and industrial mechanics

72401 Heavy-duty equipment mechanics

72402 Heating, refrigeration and air conditioning mechanics

72500 Crane operators

73100 Concrete finishers

73101 Tilesetters

73102 Plasterers, drywall installers finishers, and lathers

73110 Roofers and Shinglers

73111 Glaziers

73112 Painters and decorators (except interior decorators)

73113 Floor covering installers
Want to know more details about the "The BCPNP invited 224 skilled candidates" you can contact one of our immigration specialists at  Gunness & Associates.
Tel: (416) 604-2669 
Email: info@immigrationmatters.info
Gunness & Associates has helped thousands of people successfully immigrate to Canada with their families. Our skilled and experienced immigration experts have the expertise to accurately examine your case and advise you on the best method of proceeding to best serve your needs.
For honest and straightforward advice, contact the experts
Get a free Assessment 
Join our newsletter and get up-to-date immigration news Click here
All rights reserved ©2023 Gunness & Associates
---