OINP invited 1,252 candidates under the first skilled trades stream of 2023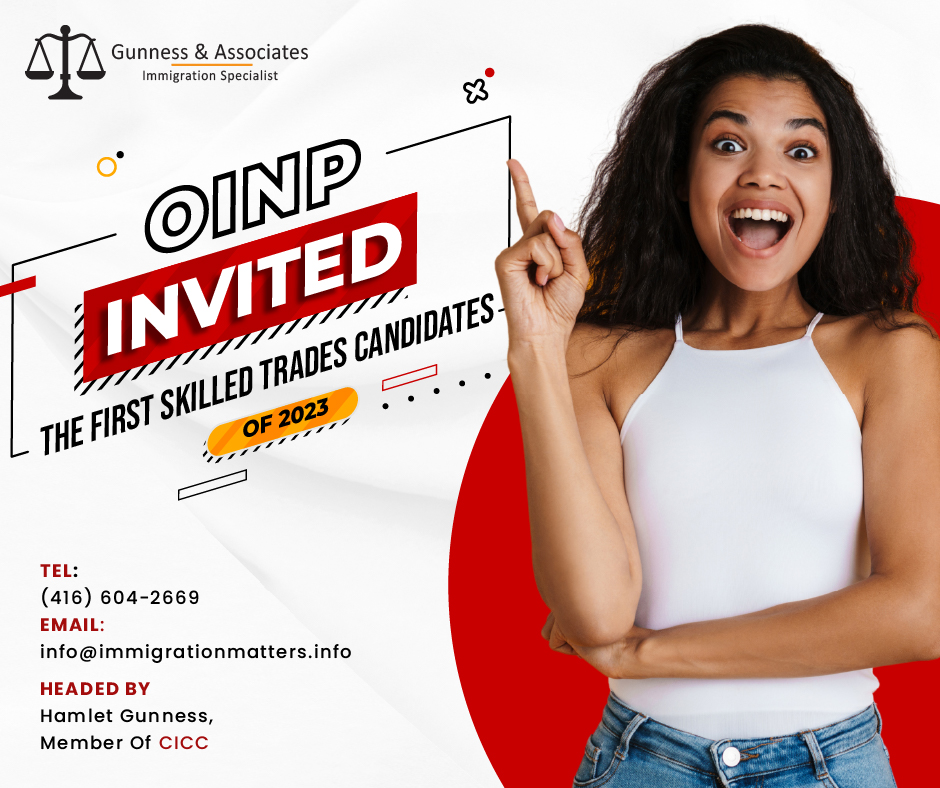 On January 13, 2023, Ontario invited 1,252 candidates under the skilled trades stream of the Ontario Immigration Nominee Program (OINP). The CRS score range of the invited candidates was between 336-506 points. Candidates, who created their profiles in the Express Entry system between January 13, 2022, to January 13, 2023, were considered by OINP in this draw for 42 NOCs.
Candidates who received a notification of interest do not need to contact the program and can apply to the stream. This year in 2023, the province already invited 1,656 candidates under the OINP mostly skilled trades stream (OINP).
Occupations that were the targeted for the invitations under the first skilled trades stream:
NOC 72010 – Contractors and supervisors, machining, metal forming, shaping and erecting trades and related occupations

NOC 72011 – Contractors and supervisors, electrical trades, and telecommunications occupations

NOC 72012 – Contractors and supervisors, pipefitting trades

NOC 72013 – Contractors and supervisors, carpentry trades

NOC 72014 – Contractors and supervisors, other construction trades, installers, repairers, and servicers

NOC 72020 – Contractors and supervisors, mechanic trades

NOC 72021 – Contractors and supervisors, heavy equipment operator crews

NOC 72022 – Supervisors, printing, and related occupations

NOC 72024 – Supervisors, motor transport, and other ground transit operators

NOC 72101 – Tool and die, makers

NOC 72102 – Sheet metal workers

NOC 72103 – Boilermakers

NOC 72104 – Structural metal and plate work fabricators and fitters

NOC 72105 – Ironworkers

NOC 72106 – Welders and related machine operators

NOC 72200 – Electricians (except industrial and power system)

NOC 72201 – Industrial electricians

NOC 72203 – Electrical power line and cable workers

NOC 72204 – Telecommunications line and cable installers and repairers

NOC 72300 – Plumbers

NOC 72301 – Steamfitters, pipefitters, and sprinkler system installers

NOC 72310 – Carpenters

NOC 72320 – Bricklayers

NOC 72321 – Insulators

NOC 72400 – Construction millwrights and industrial mechanics

NOC 72401 – Heavy-duty equipment mechanics

NOC 72402 – Heating, refrigeration, and air conditioning mechanics

NOC 72403 – Railway carmen/women

NOC 72404 – Aircraft mechanics and aircraft inspectors

NOC 72406 – Elevator constructors and mechanics

NOC 72410 – Automotive service technicians, truck and bus mechanics, and mechanical repairers

NOC 72422 – Electrical Mechanics

NOC 72423 – Motorcycle, all-terrain vehicle, and other related mechanics

NOC 72500 – Crane operators

NOC 73100 – Concrete finishers

NOC 73101 – Tile Setters

NOC 73102 – Plasterers, drywall installers and finishers, and lathers

NOC 73110 – Roofers and shinglers

NOC 73111 – Glaziers

NOC 73112 – Painters and decorators (except interior decorators)

NOC 82031 – Contractors and supervisors, landscaping, grounds maintenance, and horticulture services

NOC 92100 – Power engineers and power systems operators
What is Ontario's Express Entry Skilled Trades stream?
The Ontario Immigrant Nominee Program has an immigration stream called the Express Entry Skilled Trades Stream (OINP). It allows foreign nationals with relevant skilled trades work experience in Ontario to apply to live and work permanently in Ontario.
Before you can apply to be nominated by the Ontario government for permanent residence, you must have a valid profile in the Immigration, Refugees and Citizenship Canada (IRCC) Express Entry system and get a Notification of Interest from Ontario.
What are the requirements for Ontario's Express Entry Skilled Trades stream? 
job experience.

a current license or certificate (if applicable).

When you apply, you must be a resident of Ontario and have a current work permit.

You must have at least a Canadian Language Benchmark (CLB) level 5 in either English or French in order to understand, read, write, and speak either language.

When you relocate to Canada, you must have the funds to support both yourself and any dependant family members.

a desire to reside in Ontario.
Also, Read our Blog about: Foreign Workers Stream Invited 404 Candidates under OINP
To find out more details about "OINP invited 1,252 candidates under the first skilled trades stream of 2023" you can contact one of our immigration specialists at  Gunness & Associates.
Tel: (416) 604-2669 
Email: info@immigrationmatters.info
Gunness & Associates has helped thousands of people successfully immigrate to Canada with their families. Our skilled and experienced immigration experts have the expertise to accurately examine your case and advise you on the best method of proceeding to best serve your needs.
For honest and straightforward advice, contact the experts
Get a free Assessment 
Join our newsletter and get up-to-date immigration news Click here
All rights reserved ©2022 Gunness & Associate
---