Supreme Court of Canada upholds Canada-US Safe Third Country Agreement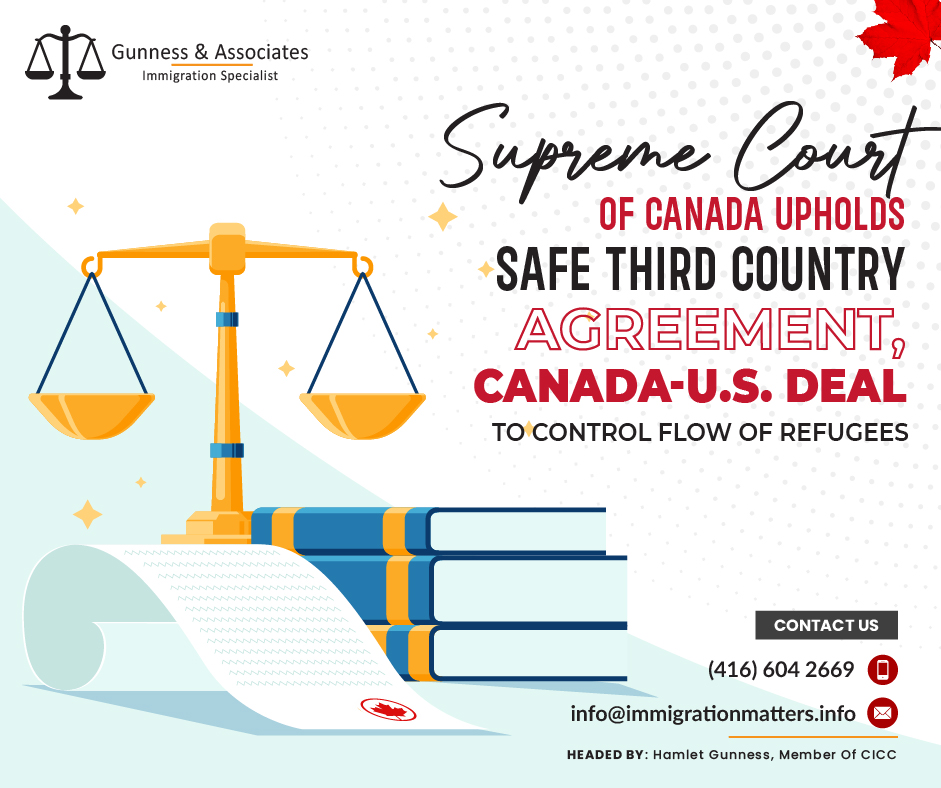 The Canada-US Safe Third Country Agreement to manage the flow of asylum seekers across their common border has been considered legal by Canada's highest court. 
Refugees are obligated by the agreement to apply for asylum in the first of the two nations they arrive in; if their application is denied by one, they will not be successful if they apply on the other side of the border.
The top court was asked by treaty opponents to rule that the laws supporting the agreement violate the rights to life, liberty, and security because many asylum seekers are not truly safe in the United States.
The Supreme Court decided that Section 7 of the Charter of Rights and Freedoms is not violated by the proposal for legislation enabling the agreement.
The Supreme Court has invited the Federal Court to investigate the opposition's claim that the accord violates Section 15 of the Charter due to the alleged discriminatory treatment of women escaping domestic violence in the United States.
The Canadian Press first published this news on June 16, 2023.
About the Canada-US Safe Third Country Agreement
The U.S.-Canada Smart Border Action Plan includes the Safe Third Country Agreement between the two nations.
Unless they meet the requirements for an exception to the Agreement, those who wish to claim refugee status must do so in the first safe country they arrive.
The Agreement allows both governments to more effectively control who has access to each nation's refugee systems when they pass the Canada–U.S. land border. The Agreement was finalized on December 5, 2002, and the two countries signed it. It became effective on December 29, 2004. Following the completion of regulatory modifications, the two countries signed an Additional Protocol to the STCA, which went into effect on March 25, 2023. A revised agreement is represented by the two documents together.
According to the Immigration and Refugee Protection Act, Canada has only designated the US as a safe third country.
Also, Read:
RNIP boosts Manitoba school enrolment
Want to know more details about the "Supreme Court of Canada upholds Safe Third Country Agreement, Canada-U.S. deal to control flow of refugees" you can contact one of our immigration specialists at  Gunness & Associates.
Tel: (416) 604-2669 
Email: info@immigrationmatters.info
Gunness & Associates has helped thousands of people successfully immigrate to Canada with their families. Our skilled and experienced immigration experts have the expertise to accurately examine your case and advise you on the best method of proceeding to best serve your needs.
For honest and straightforward advice, contact the experts
Get a free Assessment 
Join our newsletter and get up-to-date immigration news Click here
All rights reserved ©2023 Gunness & Associates
---