Prince Edward Island invited 144 candidates in PEI PNP new invitation round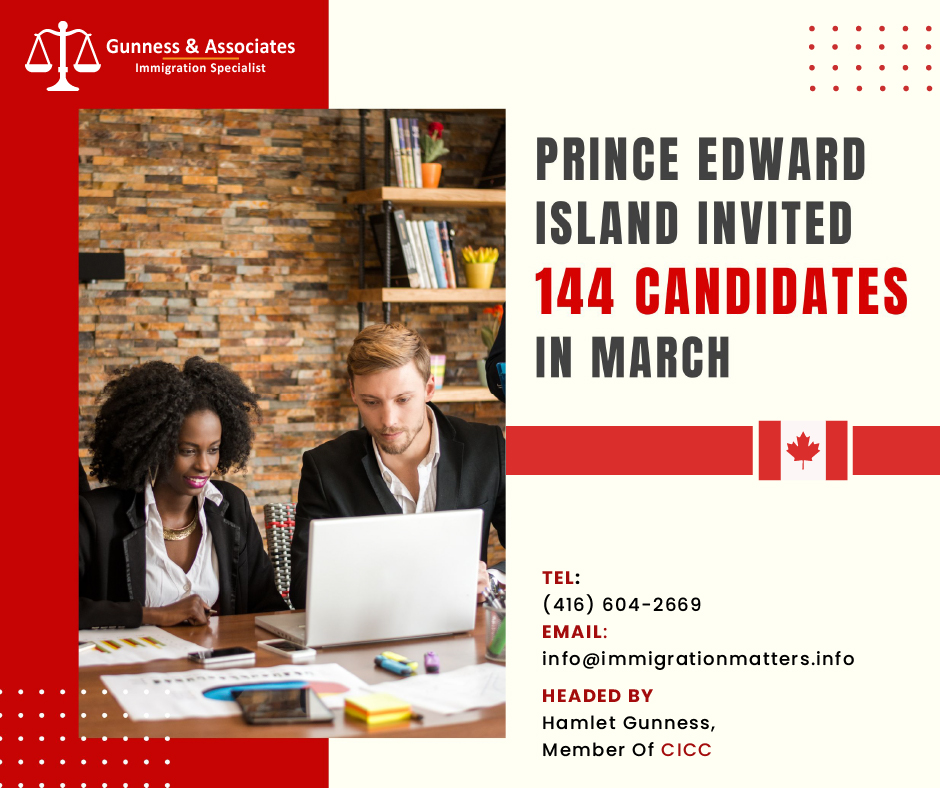 On March 16, 2023, Prince Edward Island conducted a PEI PNP new invitation round. In the fourth round of this year, the province issued 138 invitations to apply to skilled workers in the Labour Impact and Express Entry streams. 
PEI also invited six candidates to the Business Work Permit Entrepreneurs stream. The lowest score for business candidates was 52 points, 18 points fewer than in the February draw. 
PEI PNP new invitation round details
On March 16, 2023, Prince Edward Island invited 144 Candidates to PEI PNP's new invitation round, details for category, Invitations, and minimum score can be found in the table below
| | | | |
| --- | --- | --- | --- |
| Date | Stream | Invitations | Minimum Score |
| March 16, 2023 | Labour Impact/Express Entry | 138 | N/A |
| March 16, 2023 | Business Impact | 6 | 52 |
This year, PEI invited 641 candidates. According to the schedule, the next PEI PNP draw will occur on March 30, 2023.
The Prince Edward Island PNP has invited candidates for business work permits and entrepreneurs 116 times over the last year while inviting candidates for labor and express entry 1,982 times.
PEI PNP: How to maximize nomination chances?
In the interest of supporting the province's growth in the economy, the Prince Edward Island Provincial Nominee Program (PEI PNP) aims to bring in skilled workers, entrepreneurs, and investors. If you're interested in maximizing your chances of being recommended for the PEI PNP you have to be careful with some factors such as:
Research the requirements, before submitting an application, and be sure you are aware of the criteria for the PEI PNP. In your application, include as much accurate and detailed information as you can. Make sure to mention any ties you may have to PEI in your application, such as previous employment, study, or residence there. The aim of the PEI PNP is to attract people who are committed to migrating to and working in the province. 
Demonstrate your knowledge of the province and the factors for your wish to live there in your application. And as well, consider working with an immigration consultant who has expertise in the PEI PNP when you require professional assistance. They can give guidance on the application procedure and aid in the creation of a compelling case for your nomination.
Want to know more details about "Prince Edward Island invited 144 candidates in PEI PNP new invitation round" you can contact one of our immigration specialists at  Gunness & Associates.
Tel: (416) 604-2669 
Email: info@immigrationmatters.info
Gunness & Associates has helped thousands of people successfully immigrate to Canada with their families. Our skilled and experienced immigration experts have the expertise to accurately examine your case and advise you on the best method of proceeding to best serve your needs.
For honest and straightforward advice, contact the experts
Get a free Assessment 
Join our newsletter and get up-to-date immigration news Click here
All rights reserved ©2022 Gunness & Associate
---