British Columbia issued 160 invitations in the new SI and EEBC of the BCPNP draws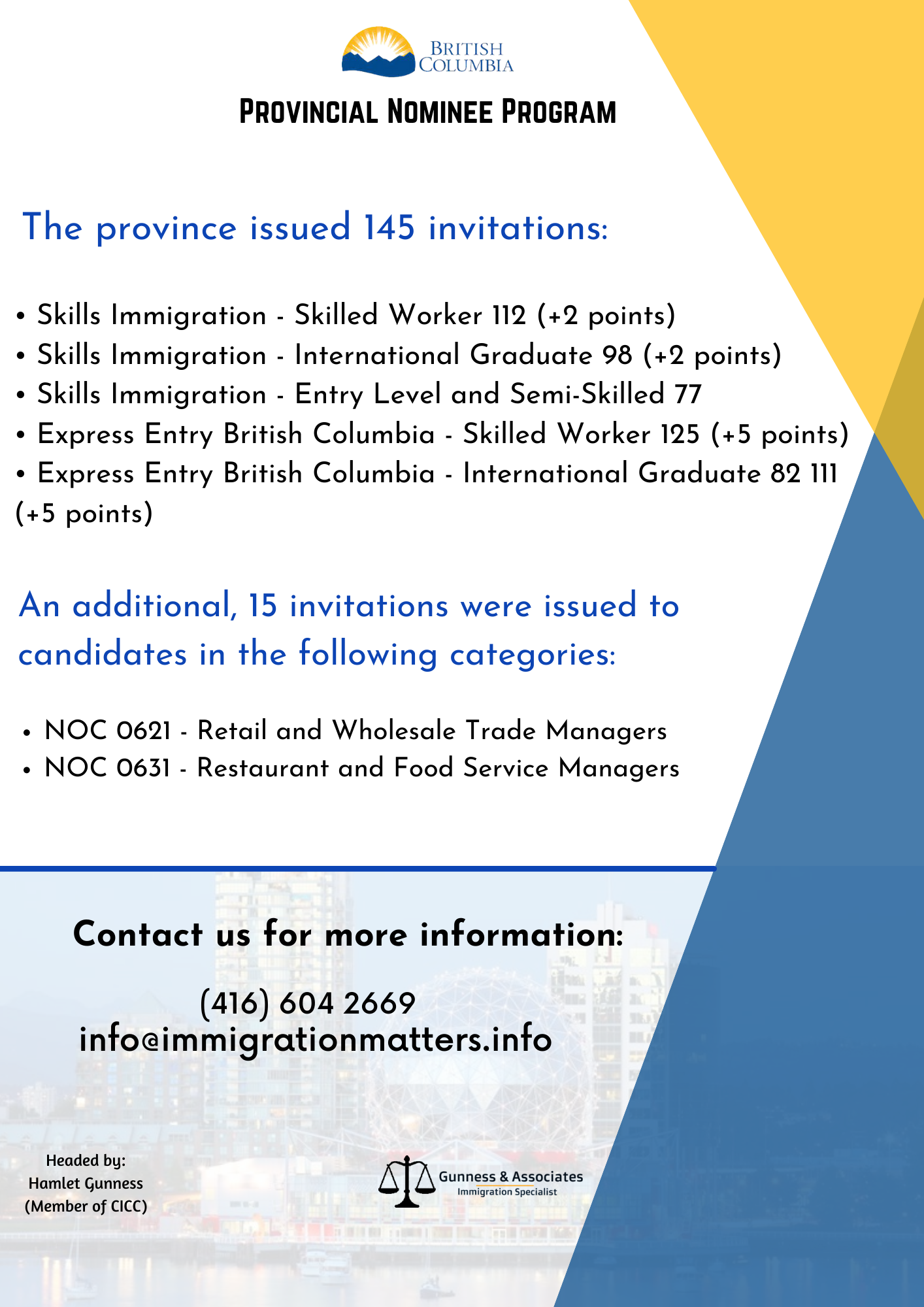 On February 22, 2022, British Columbia held two rounds in the Skills Immigration (SI) and Express Entry British Columbia (EEBC) categories of the British Columbia Provincial Nominee Program (BCPNP).
In the general draw, BC issued 145 invitations. The lowest scores in the categories were:
Skills Immigration – Skilled Worker 112 (+2 points)
Skills Immigration – International Graduate 98 (+2 points)
Skills Immigration – Entry Level and Semi-Skilled 77
Express Entry British Columbia – Skilled Worker 125 (+5 points)
Express Entry British Columbia – International Graduate 111 (+5 points)
Find the easy process for Express Entry!
The second draw of the day targeted only candidates in NOC 0621 – Retail and Wholesale Trade Managers and NOC 0631 – Restaurant and Food Service Managers. The province issued 15 invitations for such candidates. The lowest score of those candidates was 125 points, 5 points more compared to the previous NOC-specific draw. In total, British Columbia issued 1,346 ITAs under the BCPNP in 2022.
British Columbia (BC) has been sending out separate invites to these two occupations twice a month for the past year. Due to a large number of candidates from specific labor market sectors who have registered in the province's SIRS (Skills Immigration Registration System), these separate drawings are being held.
When British Columbia conducts one of its regular draws, the high-scoring candidates from each sub-category are invited to apply for a PNP (provincial nomination) to apply for permanent residency.
You have 30 days from the date of the invitation to submit a complete application through the BC PNP online system if you have received an invitation.
Find out if you are eligible for Canadian immigration under the BC PNP!
To find out if you're eligible for immigration to Canada under BC PNP (British Columbia Provincial Nomination), simply complete our free assessment form! And one of our specialists from Gunness and Associates will get back to you.
Join our newsletter and get up-to-date immigration news Click here.
To know more details about the BCPNP draws, you can contact one of our immigration specialists at Gunness & Associates.
Tel: (416) 604-2669
Email: info@immigrationmatters.info
All rights reserved ©2022 Gunness & Associate
---